Welcome to the latest international news headlines from "The World."
Top Story: Children and the Coronavirus.
Views expressed in this world news summary are those of the reporters and correspondents.
Content supplied by PRX, WGBH (Boston), and the BBC (London).
To access the latest BBC World News video, please go here:
https://www.bbc.com/news/av/10462520/one-minute-world-news.
Source:
https://theworld-totw.cmail19.com/t/ViewEmail/i/EFC20F64863752B42540EF23F30FEDED/2CBDDC64C4176BE41C65CA3F48968C2E
Please click link or scroll down to read your selections.
Thanks for joining us today.
Until next time,
Russ Roberts
https://www.hawaiigeopoliticalnews.com
https://hawaiiintelligencedaily.com
We got ahead of our spell check this morning. Here's the newsletter again, without the typos.

A lethal inflammatory syndrome, possibly linked to the novel coronavirus, is beginning to appear in children around the world.
Brexit? Yeah, that's still happening. But with seven months before negotiations are set to be completed, the pandemic is complicating things.
And, women's pro soccer was making strides toward parity with men's. Will coronavirus change that? Also, why are some men still flocking to pachinko parlors in Japan?
---
You can also follow The World on Twitter.
---
In the news today
What effect is the novel coronavirus having on children?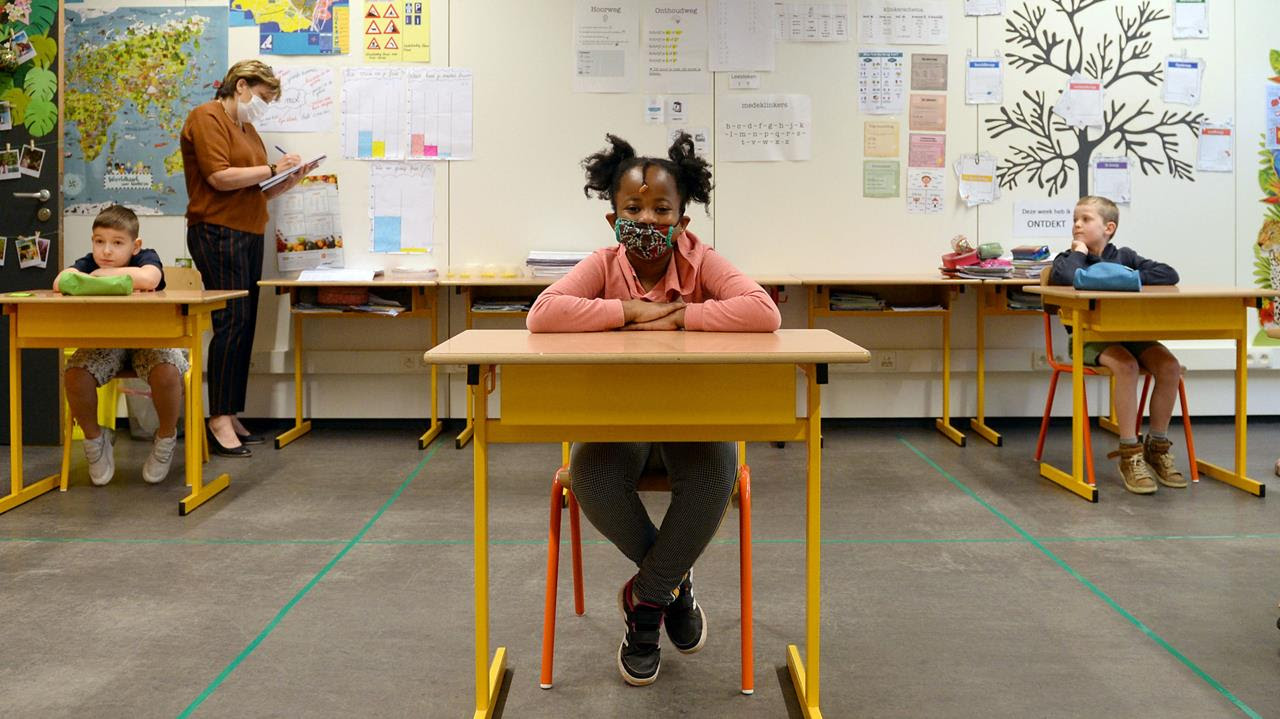 Credit: Johanna Geron/Reuters
Palestinians mark Nakba, as Netanyahu looks to annex West Bank
Today, Palestinians mark the
72nd anniversary of the Nakba
, or "the catastrophe," which commemorates Palestinian displacement during the establishment of the state of Israel. Hundreds of thousands of Palestinians were expelled from their native lands between 1947 and 1949. Now millions live in occupied territories, including the West Bank. Under a US-backed plan, Israeli Prime Minister Benjamin Netanyahu is working to annex parts of the West Bank, a subject on the agenda when US Secretary of State Mike
Pompeo visited Israel
this week. Many say such a move would be a blow to a potential two-state solution.
Many governments are scrambling to buy antibody tests to find out how many of their citizens were infected with the novel coronavirus. But exactly how — or if — the information will be of use remains unclear.
As part of our weekly discussion series taking your questions to the experts, The World's Jonathan Dyer will moderate a conversation with Dr. Michael Mina, assistant professor of epidemiology at Harvard's T.H. Chan School of Public Health.
Tune in here today at 12pm
ET, and email your questions to
myworld@theworld.org
.
Thought Brexit was over, right? Wrong. Britain did leave the EU at the end of January, but in reality, nothing much has changed.
The real deadline is Dec. 31
, and negotiations are set to take place until then. There's just one problem: a pandemic.
Even before the pandemic struck, 11 months to complete very complex negotiations was a remarkably tight timeframe. Now, with just seven months to go, it seems near-insurmountable.
Twin attacks in Afghanistan on May 12 have left many in the country in shock and wondering
when the bloodshed
in their country will end.
Videos
from the attack on a maternity hospital showed Afghan security forces rushing out with tiny newborns in their arms. Later, Zahra Jafari, a midwife,
told Afghan reporters
that she had just welcomed some new patients earlier that morning. They died a few hours later.
Afghan President Ashraf Ghani said this week that his government is not going to stay silent. He ordered security forces to
begin an offensive
against the extremist groups.
The Number in the News: 1988
For those stuck at home, especially with children, Japanese animator and former president of Tokyo's
Studio Ghibli
released a video tutorial of how to draw one of the animation company's beloved characters. "My Neighbor Totoro," released in 1988, is among dozens of films from the Oscar-award winning Japanese animation group.
The Number in the News is The World's daily smart speaker show. You'll learn one number you won't forget and why it's in the news today. Click here to add The Number in the News to your Amazon or Google flash briefing and hear a new episode seven days a week.
Apes can get COVID-19, too, and this could be devastating for endangered populations. Only about 1,000 mountain gorillas remain, and roughly half live in Bwindi Impenetrable National Park in Uganda. Veterinarian Dr. Gladys Kalema-Zikusoka spoke with The World's Marco Werman
about this new risk
.
As women's soccer was drawing more and more fans, the players were stepping up their fight against gender discrimination in the sport. But just a year later, the game's visibility — and its journey toward equity —
has been stopped in its tracks
. In a recent report examining COVID-19's impact on professional women's soccer, FIFPRO said the pandemic could "present an almost existential threat to the women's game if no specific considerations are given to protect the women's football industry."
Credit: Issei Kato/Reuters
Pachinko defies easy description. Imagine if a pinball machine and a slot machine had a baby — an incredibly loud baby that bleeps and jingles and lures you into a daze.
Much of Japan is under a state of emergency, and officials have asked many shops to close. The country has shut down schools and offices and parks — and yet, outside some pachinko joints, men
stubbornly line up to get their fix
.
---
Morning meme