Biden moves quickly on the coronavirus task force.
Views expressed in this geopolitical news summary are those of the reporters and correspondents.
Content provided by "Top of The World"-produced by PRX and GBH.
For the latest BBC World News video, please go here:
https://www.bbc.com/news/av/10462520/one-minute-world-news
Accessed on 09 November 2020, 1809 UTC, Post 712.
Source:
https://mail.google.com/mail/u/0/#inbox/FMfcgxwKjKvbttSpLCRkJkkLntWPggCR
Please click link or scroll down to read your selections.
Thanks for joining us today.
Until next time,
Russ Roberts
https://www.hawaiigeopoliticalnews.com
https://hawaiiintelligencedaily.com
---
In the news today
Biden announces coronavirus task force
Following a weekend of celebration and protest as Democratic candidate Joe Biden was announced the winner of the US presidential election, US President Donald Trump has not signaled plans to offer a customary concession speech or phone call, as of Monday morning. Meanwhile, the former vice president is moving quickly to begin building his government and take on the most pressing issue of the day: the pandemic.
The coronavirus has killed nearly 240,000 people in the US and more than 1.2 million people worldwide. President-elect Biden on Monday announced details of his coronavirus working group, which will be tasked with establishing a blueprint to bring the pandemic under control. The group's plans — which already signal a sharp difference from Trump's efforts to play down the pandemic — are expected to include a focus on testing, acquiring additional protective equipment, and investing $25 billion in vaccine manufacturing and distribution.
"Dealing with the coronavirus pandemic is one of the most important battles our administration will face, and I will be informed by science and by experts," Biden said in a statement.
What The World is following
In what is potentially the most encouraging scientific advance in the global effort to counter the coronavirus crisis, Pfizer and German partner BioNTech announced Monday its experimental COVID-19 vaccine was more than 90% effective in preventing the disease among trial volunteers who had no evidence of prior coronavirus infection. So far, the successful data from the large-scale clinical trial found no serious safety concerns. Pfizer said it will likely seek emergency use authorization in the US this month, though widespread distribution is unlikely for many months.
And, Sen. Kamala Harris made history on Saturday as the first woman, first woman of color and the first daughter of immigrants to be elected to the US vice presidency. In her ancestral village of Thulasendrapuram, in southern India, there were firecrackers and prayers of gratitude at the Hindu temple over the weekend, and children clutched posters of her.
---
Big news! The World is participating in NewsMatch. From now until the end of the year, every dollar of support will be generously matched by a coalition of national funders. This means a gift of $50 will provide $100 of support for The World's critical journalism. Double your impact today!
Many of you have stepped forward and shown your support for The World with thoughtful messages like this one:
"You are the best radio show in the entire world. That is not a joke. Keep up the excellent work."
Thank you for your support. Visit www.theworld.org/give to donate.
---
From The World
What lasting effects will four years of Trump have on the presidency and on the US government as a whole? What was already baked in and what can be undone? The World's host Marco Werman spoke with journalist Masha Gessen, who said the US needs a reinvention of democracy.
"We need to really have a countrywide conversation about what we mean by "democracy," Gessen said. "Democracy is not elections. Democracy is not a set of institutions. Those are all instruments of democracy. But how do we create a government of the governed? How do we create a government of the people, by the people and for the people?
"These are fundamental questions that we haven't asked in a long time. And I think that part of the reason that it has been so easy for Donald Trump to pervert institutions is because we haven't been having this conversation."
---
Bright spot
With news that Joe Biden was declared winner of the US presidency on Saturday came relief or anxiety, depending on who you voted for. The news also might have put an end to the endless "doomscrolling" on your phone, replacing it with "gleefreshing?" Whatever your preferred term, one thing was certain — screen time was way up last week.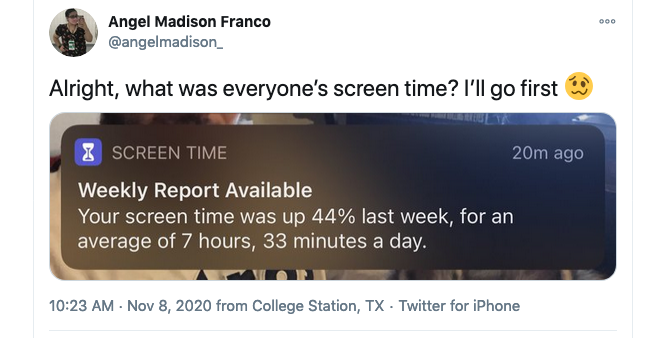 The AP and Reuters contributed to this newsletter.