Pro-Navalny protests clash with Russian police.
Views expressed in this geopolitical news summary are those of the reporters and correspondents.
Content supplied by "Top of The World", produced by PRX and GBH.
Accessed on 25 January 2021, 1927 UTC, Post 929.
Source:
https://mail.google.com/mail/u/0/#inbox/FMfcgxwKkbqHRRVPgkXMbHMxBsnTMXvZ
Please click link or scroll down to read your selections.
Thanks for joining us today.
Russ Roberts
https://www.hawaiigeopoliticalnews.com



---
In the news today
Pro-Navalny protesters clash with Russian police
On Saturday, Russian police clashed with thousands of protesters who took to the streets amid freezing temps across the country, demanding the immediate release of opposition figure and prominent critic of President Vladimir Putin, Alexei Navalny. In Moscow alone, an estimated 15,000 protesters came out to support Navalny's anti-corruption message until police beat and dragged several demonstrators and detained others. More than 3,000 were taken into custody across 109 cities over the weekend, including Navalny's wife, Yulia Navalnaya, in Moscow, in the largest expression of dissent in Russia in years.
Putin's nemesis, Navlany, was arrested on Jan. 17, after he returned to Moscow from Germany where he was recuperating for five months from nerve-agent poisoning. Navalny blames the Kremlin who has denied it. Navalny now faces up to 3 ½ years in prison on alleged fraud and money laundering charges, which Navalny says are politically motivated. Navalny's widespread support inside Russia and abroad places the Kremlin in a political bind: Keeping him behind bars could lead to an uptick in protests and bad press in the West.
The US State Department has condemned "the use of harsh tactics against protesters and journalists this weekend in cities throughout Russia" and called on Russian authorities to immediately release Navalny and detained protesters. But Russia rebuked the US for encouraging Russian citizens to break the law. Several EU representatives also weighed in on Russia's crackdown on protesters. EU foreign policy chief Josep Borrell said, "This wave of detention is something that worries us a lot, as well as the detention of Mr. Navalny." French Foreign Minister Jean-Yves Le Drian expressed concern about Russia's "authoritarian drift."
What The World is following
Protests erupted over the weekend in the Netherlands on the second night of a COVID-19 curfew that led to several clashes with the police and over 100 arrests nationwide. The southern city of Eindhoven was hit hardest — protesters there gathered in defiance of the new curfew that goes from 9 p.m. to 4:30 a.m., and they threw fireworks, torched a car and looted supermarkets. The enforced curfew is the first of its kind in the Netherlands since World War II, and violators can face a fine of about $115. A strict lockdown remains in place until Feb. 9 amid fears of new virus variants found in the UK, South Africa and Brazil. The nation is also rolling out its vaccination plan.
And in Mexico, President Andrés Manuel López Obrador, a COVID-19 skeptic, has tested positive for the coronavirus as the country registers its highest death and infection rates to date. Obrador has mild symptoms and is isolating at home, according to José Luis Alomía Zegarra, Mexico's director of epidemiology. Since the pandemic began, Mexico has suffered 150,000 deaths and more than 7.1 million infections. The country now hopes to become the first Latin American country to vaccinate teachers as a group, starting with the state of Campeche, so that they can reopen school as soon as possible.
---
From The World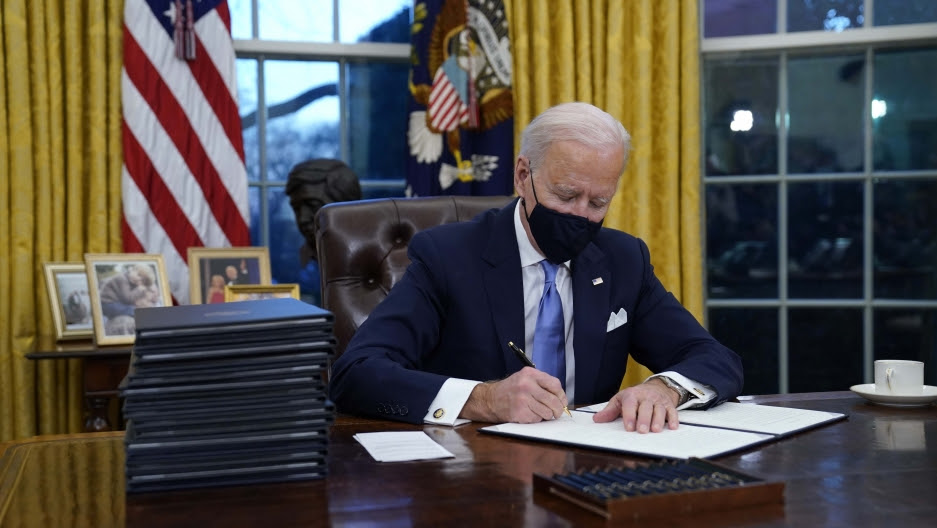 To understand how President Joe Biden's move to cancel the Keystone XL Pipeline might affect the US-Canada relationship, The World's host Carol Hills spoke to Kathryn Harrison, a political scientist and environmental policy expert at The University of British Columbia in Vancouver.
"[Canadian Prime Minister Justin] Trudeau's climate policy has been a very complicated one," Harrison said.
"The interesting question right now is to what degree Trudeau will end up owning the failure, the rejection of the Keystone XL Pipeline, even as he may get credit for some of his climate policies, or whether, in fact, this will be a wake-up call for Canada's oil industry that perhaps as the rest of the world takes action on climate change, markets for our very carbon-intensive oil will evaporate fairly quickly."
South Korea wants more couples to have babies — but not all families are equal. Same-sex marriage is banned, and there are no laws that protect the LGBTQ community from discrimination. Single mothers also face stigma.
---
Global hit
A fresh, new musical groove out of New York City (
) starts with a saxophone sample from the 1970's Long Island group, Lafayette Afro Rock Band and their song "Darkest Light." It's been sampled for many years and now Texas-based DJ and producer El Dusty, along with some of his collaborators, have worked the "Darkest Light" sample into a cumbia track called "Sax Riddim." It takes a global village — and some time — to brew a sound like this.
---
In case you missed it from The World
| | |
| --- | --- |
| | |
Get link

Facebook

Twitter

Pinterest

Email

Other Apps